Not just a standard, a passion.
(Read more)
Technical safeguards, human vigilance.
(Read more)
The extra mile… discover the difference.
(Read more)
QUALITY ISO9001

We take great pride in our work and genuinely believe that quality is a passion, shared by everyone within the company. To this end we continually push our 99.8% accuracy rating to ensure that we are the very best transcription service available. This starts during our robust recruitment process, but is constantly supported through solid training and on-the-spot reviews.
1 in 5 transcriptions are double checked against the original audio and any constructive feedback is genuinely welcomed by an enthusiastic team of transcribers with unwavering standards. We appreciate that the work we do for our clients often has the power to affect people's lives. That is why we treat every transcription, regardless of size or sector, with the same unparalleled level of respect and meticulous handling. In other words, you can rely on us to exceed any expectations you may have of a transcription service, and we use words very carefully.
SECURITY ISO27001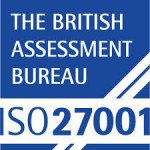 Safeguarding the integrity of their data is at the top of the list of our clients priorities. It's at the top of our list too.
We have invested in developers to create an easy-to-use systematic application where the client transcripts are all held in one of the most secure data centres in the country.
In addition to which the Apple Transcription online system has a:
A dedicated hardware firewall to increase security and reduce threats from viruses.
A signed server certificate guaranteeing 128bit encryption using the HTTPS protocol.
Numerous backup mechanisms, including database and full system backups – on and off site – to ensure user data is protected against loss or theft.
We believe that real security fundamentally begins and ends with genuine human care.
Starting right from the beginning, any transcriber considered for employment at Apple Transcription is subject to rigorous checks and interviews including:
Agreement to the company's security and confidentiality standards and requirements
Reference checked – one personal, two professional CRB checked
'Basic checked', as required by the Ministry of Justice
Signed contract which includes a confidentiality clause
The information you entrust to us is of the utmost sensitivity and we meet that responsibility with paramount discretion and confidentiality.
Our duty of care is something we take extremely seriously.
RELIABILITY
We enjoy transcribing for our clients and we have lots of great working relationships based on fantastic communication, clarity and a willingness to go the extra mile when it's needed.
We're proud of the work we do so we keep our pricing, process and delivery terms transparent and good value for everyone.
We like to think that the team at Apple Transcription are your team, with your best interests at heart.
OUR RATES ARE VERY COMPETITIVE…